One year after the fire
One year after the fire
This morning dawned at Monan's Rill with a few pink clouds in a clear blue sky. As the sun rose, drops of yesterday's rain still dripped from oak leaves, and clung to the tips of the new green grass that has germinated in the past few days.
It has been one year since the Glass Fire burned through Monan's Rill with all its fiery force on the morning of September 28, 2020, transforming the land, the community, and all of our lives.
The days surrounding that hot, windy firestorm felt nothing like the pleasant post-rain sunshine and cool autumn breeze that surrounds us today, but the fire is still ever-present around us. The smell of burned wood meets our noses as the sun warms the rain-moistened char of downed limbs and stumps that ignited a year ago, smoldered for days, and continue to litter the ground.
Capacious empty holes yawn where homes once held generations of community members in all the beautiful messiness of their lives. Acres of formerly dense forest have been reduced to swaths of jagged stumps as our logger cuts down Douglas fir trees killed by the fire and hauls them to the mill to be transformed into lumber.
Yet just beyond the salvage logging area, native plants like Yerba Santa, roughleaf aster, and velvety goldenrod are thriving, their seeds, foliage, and blooms brought to life by the rejuvenating force of the fire.
And close to the land's highest point near Diamond Mountain stands a vibrant living testament to what is possible with caring and appropriate land stewardship: the 6 acres that we burned in a prescribed fire in 2019 stayed healthy and untouched in the wildfire of 2020. The trees, ferns, and native grasses in that area continue to thrive while the heavily-torched, browned and blackened surrounding areas have barely begun to recover.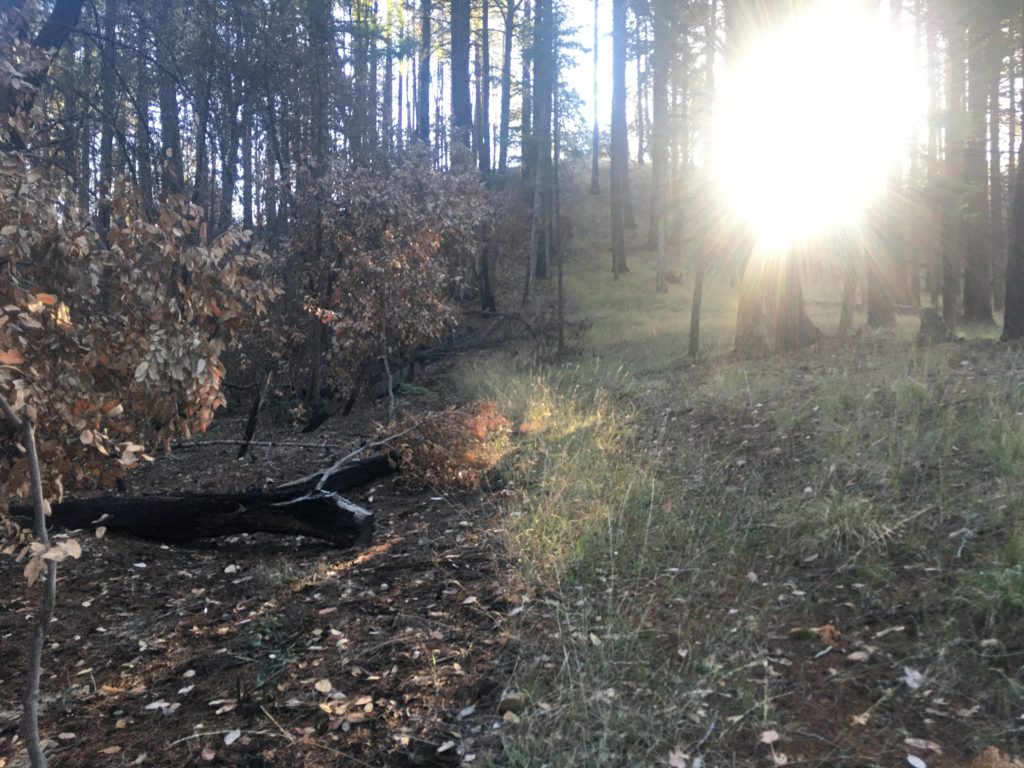 As all of us who are part of Monan's Rill reflect on the fire and all that has transpired in the past year, our feelings and experiences are complex and paradoxical. We feel grief and gratitude, anger and sadness, turmoil and peace. We mourn all that can never be replaced, appreciate the ways that we continue to be held by the land and community, and embrace the openings for emergence and transformation that the fire has created.
Though there is so much more experienced and felt than can ever be documented, a few of us offer these words and images to mark this important anniversary:
One year ago today we woke up for the last time in our home. Our homes.
If I had ever replaced my candles I would light one!
Life continues to be grief-stricken, awkward, blessed, tiring, fragmented, and sweet. All of that.
I'm thinking tenderly of the community of people we held dear, who made up our lives and our sense of possibility – those who are by our sides trying to rebuild and those who have moved on. Trying to read the message underneath this sense of painful but also understandable scattering.
Giving thanks to all the helpers and givers and mentors and guides and companions I've found over this past year. I don't see many in person! But I know you are there.
And the deer and the squirrels and the steller's jays and the acorn woodpeckers and the oaks and the manzanita and the wild grasses are there. Giving thanks to the mountain.
– Amy
A year ago tonight, we had two of three cars
"Go-bags Loaded" and we
Believed our most "precious items"
safely packed, just in case
A year ago, tonight we
Watched the winds and fire cameras on our devices
And began considering the real possibility
That the fire in the Napa Valley might come
Our way….
A year ago, we were "whole"
22 adults living or about to be living in all our homes,
We were on the cusp of agreeing to a new financial structure
And it appeared that we had prepared our homes
So that they could be defended against a fire…
A year ago we had no idea what was coming our way
How each of our lives would be forever changed
Of what was lost that mattered
And what was lost that didn't mean a thing
A year year later
We are oh so much smarter and wiser,
Oh so much more appreciative of what we had
And so very much reduced in numbers
And yet, something magical has remained
That out of the ashes of what was
Are very real "life nuggets" that remain
And a bond….even between those that left
That no fire could destroy
A year later, the land remains
Scarred but healing
The wildlife is returning
The forests will regenerate
Not as quickly as the grasses did.
But this time…we will assist and take
The wisdom that was seared into us…
And share what we're learning
For future generations in this watershed
How it can be done
With love, sweat, and yes…tears.
– Ken
Most of all I miss the beautiful Tracy Yurt, built with love. A wonderful space to have lived in. Such a calming home on the land I call home, Monan's Rill.
– Sue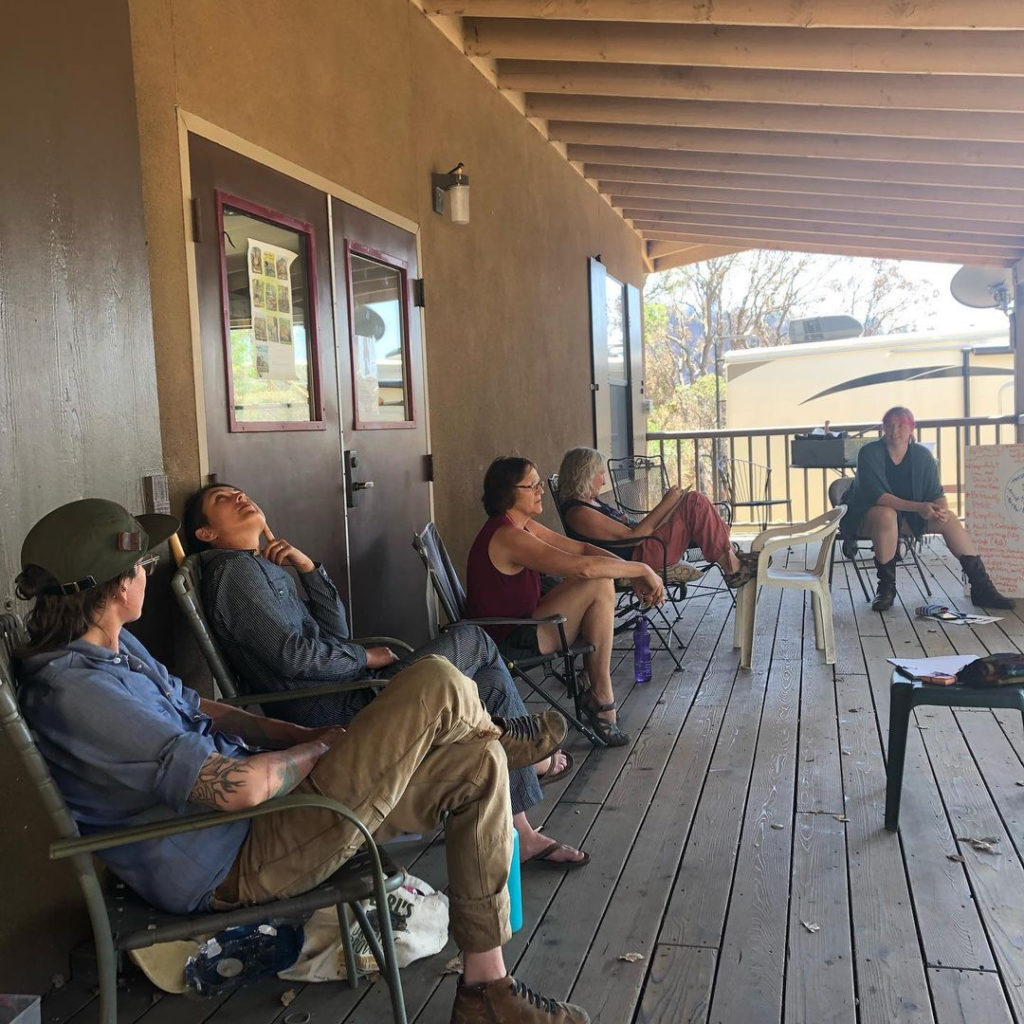 The biggest impact to me was the loss of six people all within a few months of each other. We already knew they were all going to be moving on sometime in the next few years, but having that loss all at the same time on top of the loss of trees, house, and all possessions was a lot. The spirit of the community remained and I felt blessed for the buildings that did not burn because once I knew what had survived I felt pretty certain that the community would survive. I have always believed that the land would call the people together who were meant to be here and I continue to believe that. Although the structure of it changed, I did not lose my home.
— Linda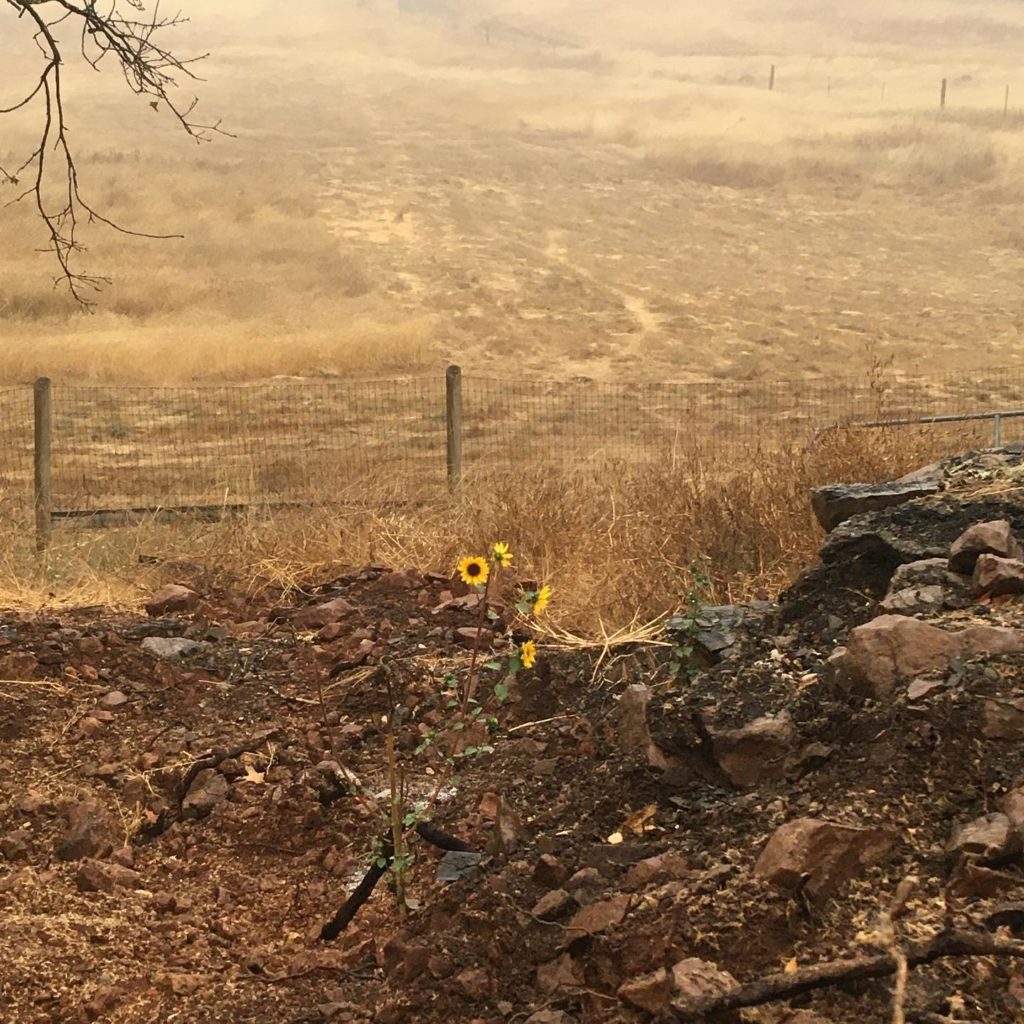 Today marks the 1 year anniversary of the glass fire. I don't know how to write about this past year. It is clear that I am still very much in the middle of a story that I don't really know how to tell. That has always been the purpose of all the photo documentation— it's the closest to a story that I can share. I took this photo tonight of a volunteer sunflower growing in the footprint of the barn, specifically where the milking room was. And I guess this year has been full of finding beauty, life and hope in the most unexpected, impacted places.This flower still made its way to life after the big equipment came and scooped everything away. Wendell Berry wrote, "There are no unsacred places; there are only sacred places and desecrated places." This is a sacred place. This is a place of heartache, of healing, of home. What is clear to me about the story I am in is that the setting is here, on this land. The characters and plot will develop and unravel and change and I will lose my place, reread the same line over and over again, get paper cuts, leave water marks and break in the spine….but the Where is the part of the story that I understand. I feel so lucky to have even one true part revealed.
— e
Throughout my adult life I've always tried to remember, appreciate and understand how lucky I have been in this life. Since the fire that appreciation and understanding has only rooted itself more firmly into my existence. I'm thankful and honored to be such a fortunate human being.
— Bill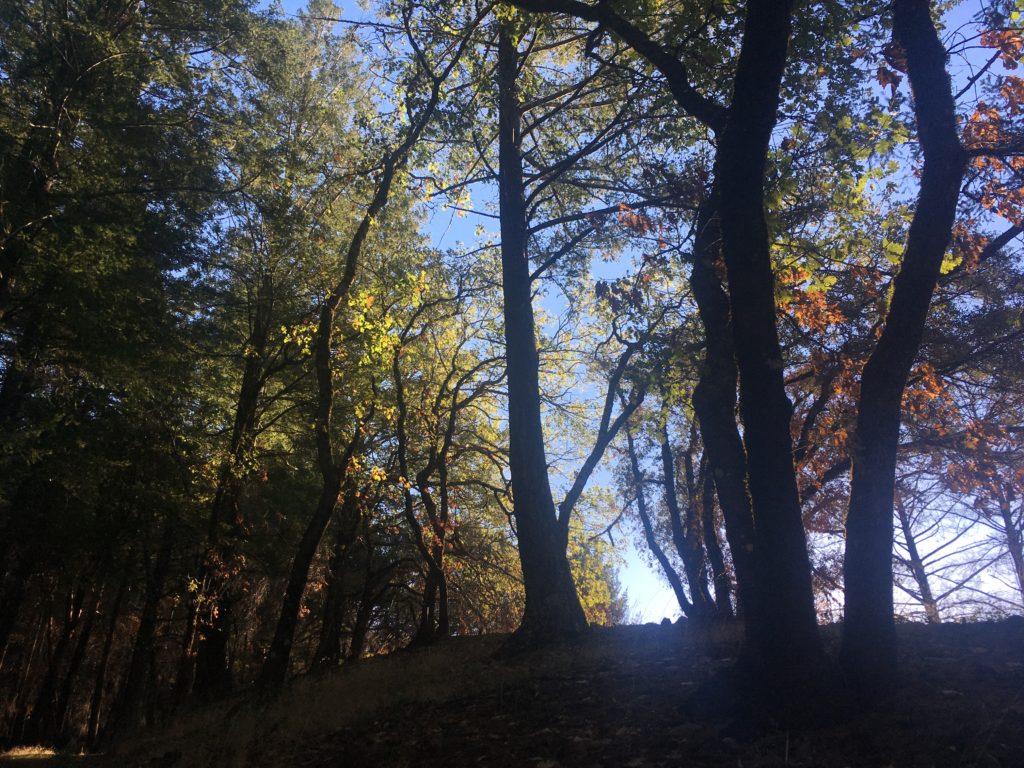 At the beginning of this anniversary day, several of us gathered on Zoom in the darkness before dawn to sit in silence, together and alone, guided by Amy with a koan and a poem:
____
After the great fire in 1374 at the Engaku-ji Temple, scholars came to see what had happened to the great library. The teacher, standing amidst the ashes and rubble, said that nothing had been destroyed. "What are you talking about?" the scholars and students asked. He held up his hand and said,
"The covers were burned but you can still hold the teachings in your hands."
____
"The Singing Bowl"
by Malcolm Guite
Begin the song exactly where you are.
Remain within the world of which you're made.
Call nothing common in the earth or air.
Accept it all and let it be for good.
Start with the very breath you breathe in now.
This moment's pulse, this rhythm in your blood.
And listen to it, ringing soft and low.
Stay with the music, words will come in time.
Slow down your breathing. Keep it deep and slow.
Become an open singing bowl, whose chime
is richness rising out of emptiness.
And timelessness resounding into time.
And when the heart is full of quietness
Begin the song exactly where you are.
____
We are all so grateful for everyone who has supported and accompanied us on the journey of this past year, and we look forward to continuing to walk with you as we rebuild and reimagine our relationships to each other and the land and the future of this community.
Goodbye to the Structures of Our Lives
Goodbye to the Structures of Our Lives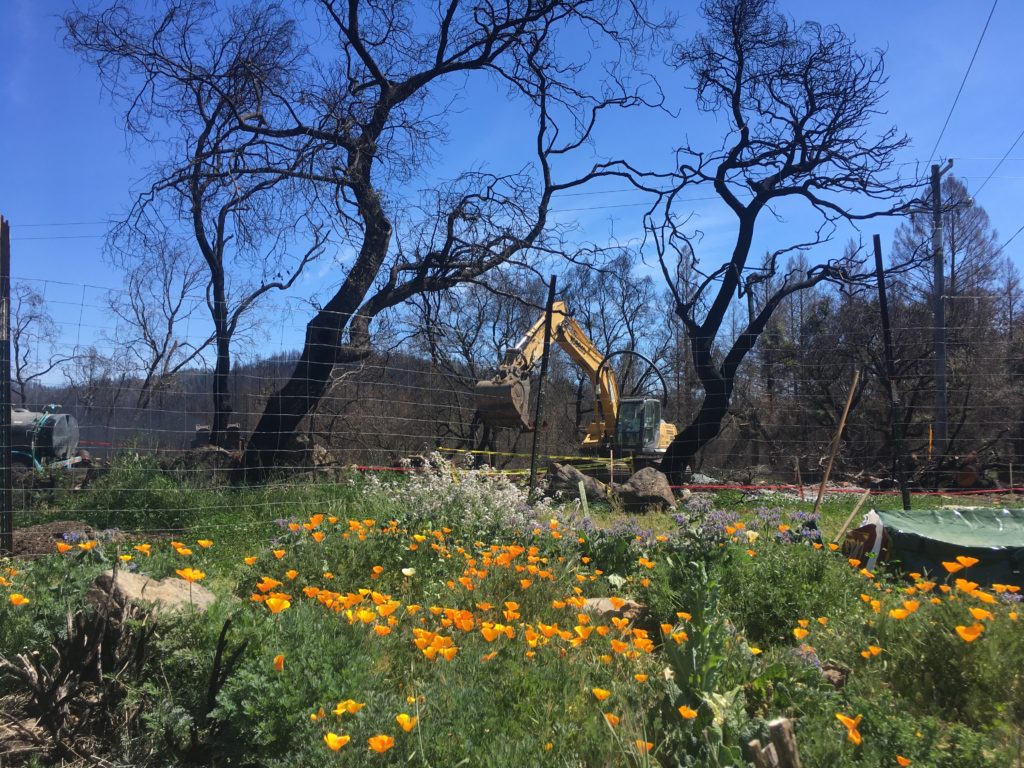 Just two weeks ago, seven months after the Glass Fire, excavators finally arrived at the Rill to clear away our burn debris – the remains of our homes, barn, community toy shed, wood sheds, cars, well, hot tub, greenhouse, garden shed, play structures… Our memories. Our lives the way they were. So often social media leans towards the light, the bright and shiny and resilient. So over these two weeks, to honor the grieving process, Amy posted just a photo or two or three per day of our beloved burned structures on our Instagram page, with small passages of gratitude and memory (with help from Thea and e), to say goodbye. To make room for and honor the shadow that we know is there, so we can move wholeheartedly forward with rebuilding and re-visioning the Rill.

Now we are posting them here. The goodbye passages have been edited and altered and extended at times from their social media incarnation, because of the collective nature that the project became. Other people's words and memories are in some places woven in.

Thank you for being on this journey of shadow and light, with us.
---
Garden House. Thank you for sheltering us. Thank you for the beauty, the polished wood and broad panes of glass, for the late-night fire watches in the downstairs office, the happy hours amidst cascades of flowers, the parrot who once regaled us naughty cries, and for the garden – a masterpiece created over time. Goodbye.
---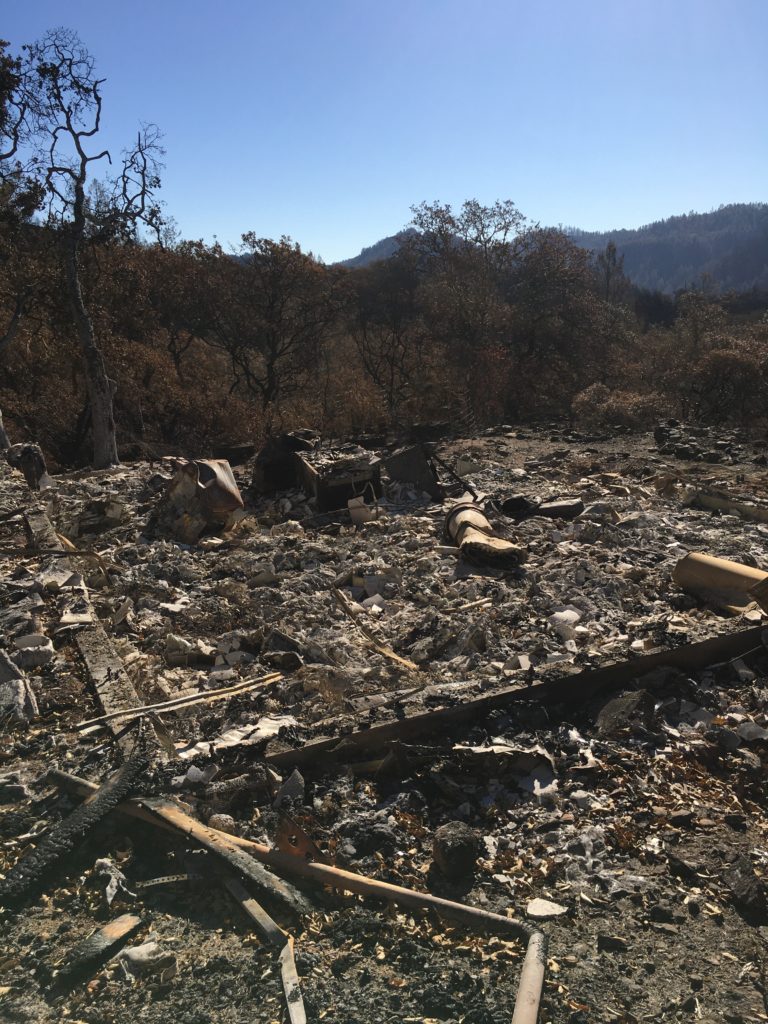 Patio House and Ridge House. Thank you for sheltering us. Thank you for standing watch over the rill and the valley, for being at the end of the Daffodil Path. Thank you Ridge House, the first of all the houses at Monan's Rill. For the massive stone chimney built by group effort, your whimsical art, your purple walls and the massive Mother Tree that stood outside your wall of windows and then didn't. Thank you Patio House for housing so many families and growing better over the years, with gorgeous decks, your shady patio and many entrances. Goodbye.
---
Hill House and Studio. Thank you for sheltering us. Thank you for being a sweet spot way up on the hill. For your green roof, cool downstairs, for the root cellar, and the broad deck like a wonderland, under the Dragon Tree. Thank you for the sweet sanctuary of your Studio. Goodbye.
---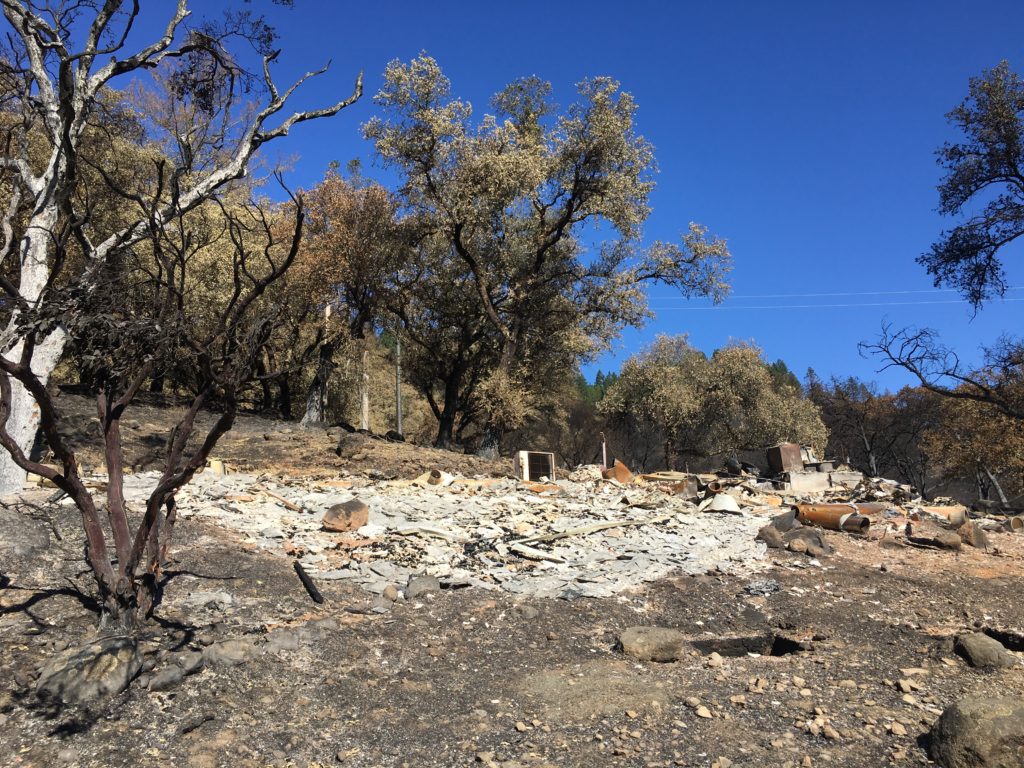 Oak Corner. Thank you for sheltering us. Thank you for your resilience, for holding so many families over the years, for allowing so much laughter and life to roll through your halls. Thank you for morning coffee on your lovely expansive deck, sunlight piercing the fog. That late afternoon iced tea brewed on your deck, enjoyed while the sun was setting, was divine too. Good neighbors rattling your screen door, delivering the best eggs. Half-buried matchbox cars, tucked in your foundation, memories of all the kids that played under your porch. Goodbye.
---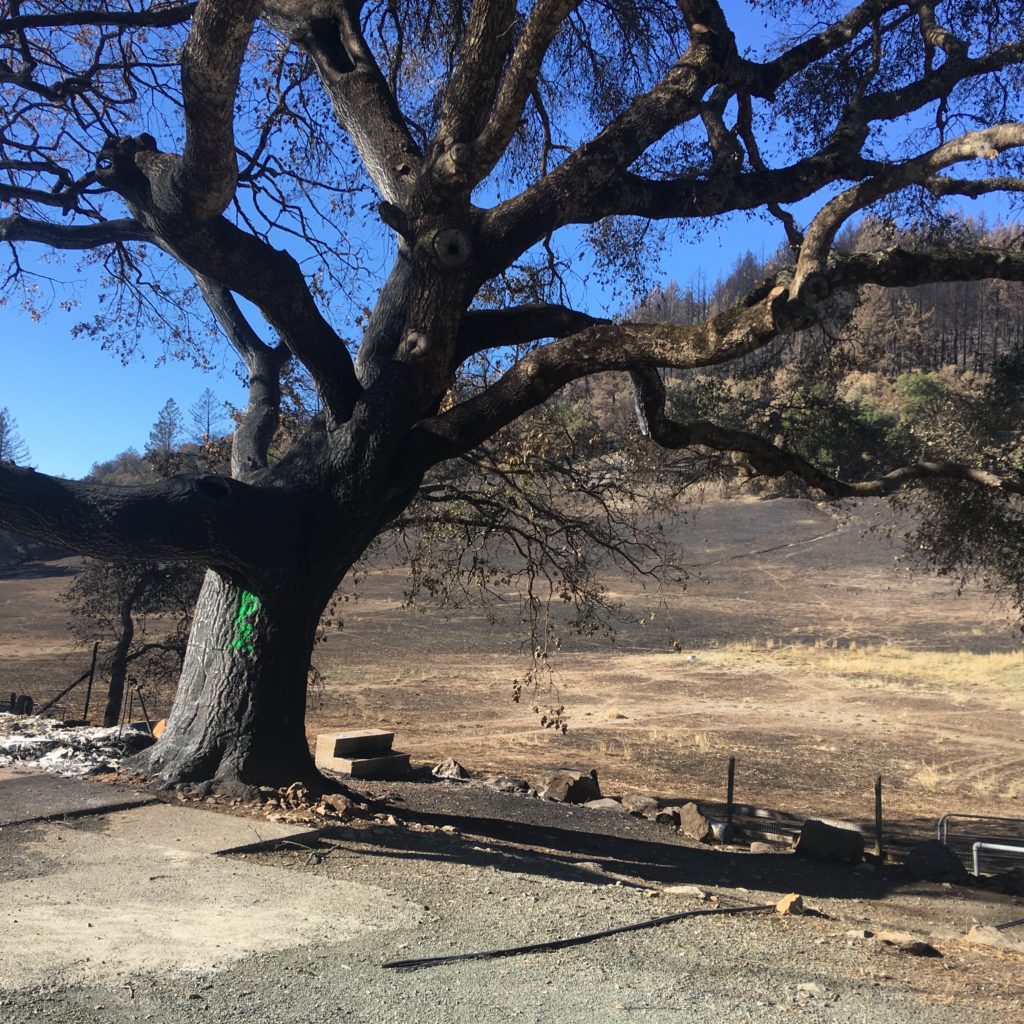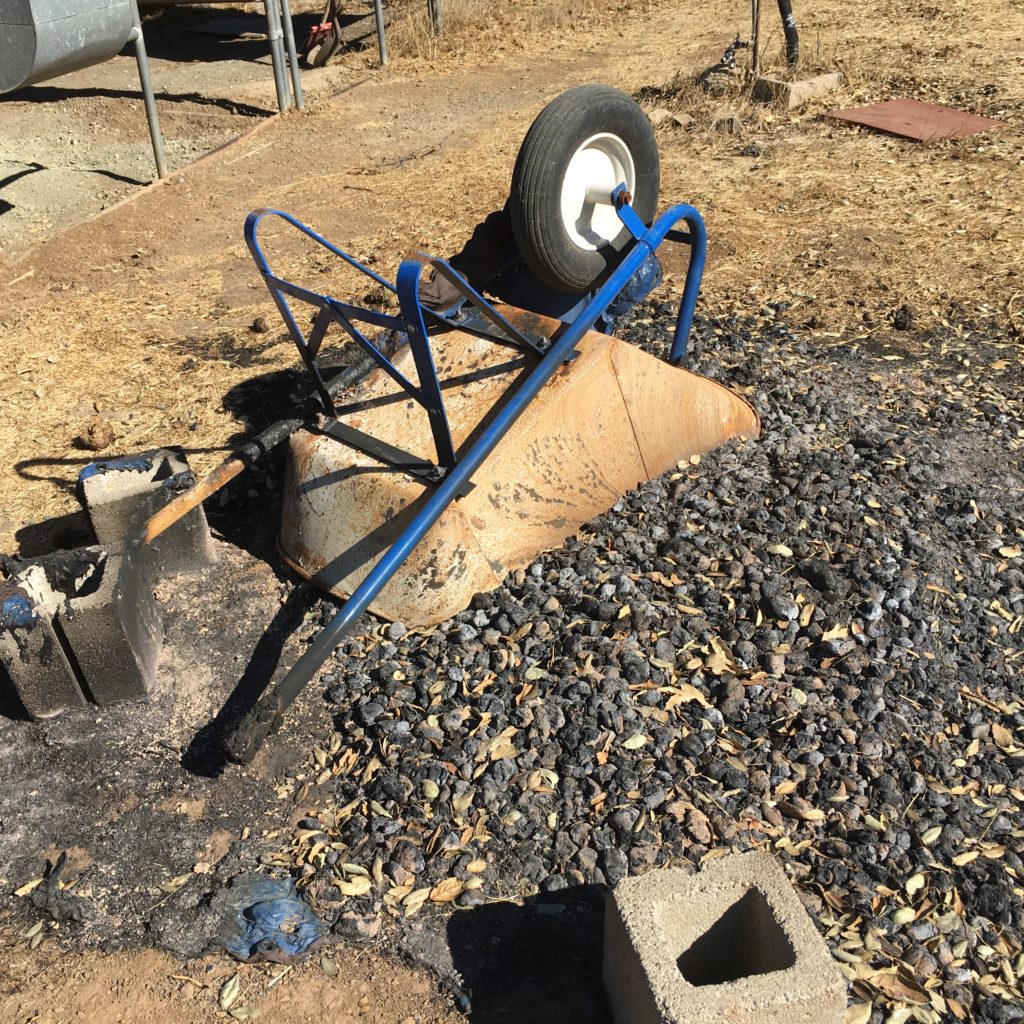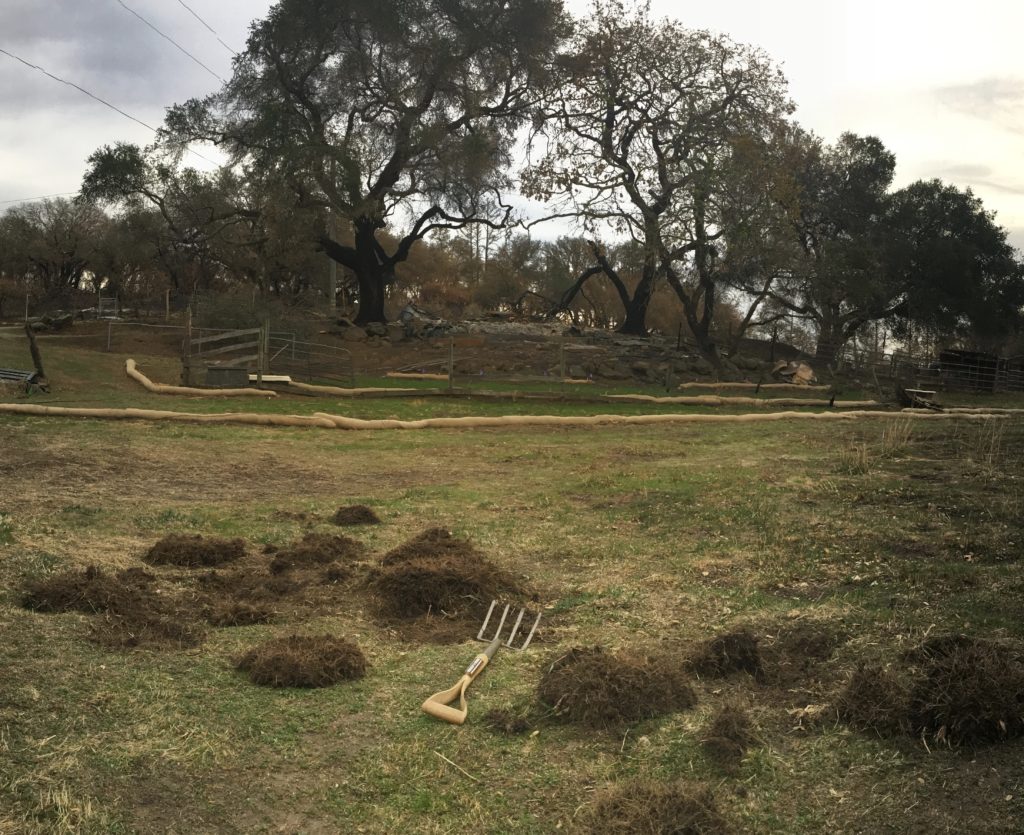 Barn. Thank you for sheltering our beloved animals. Thank you for calling us to the steady rhythm of daily chores, where we often overlapped into impromptu conversations. Thank you for storing a cider press we could drag out in the autumn. Thank you for your heavy sliding door, your hay dust in the morning light, and for holding our bursting, aching hearts as we learned lessons of life and death. Goodbye.
---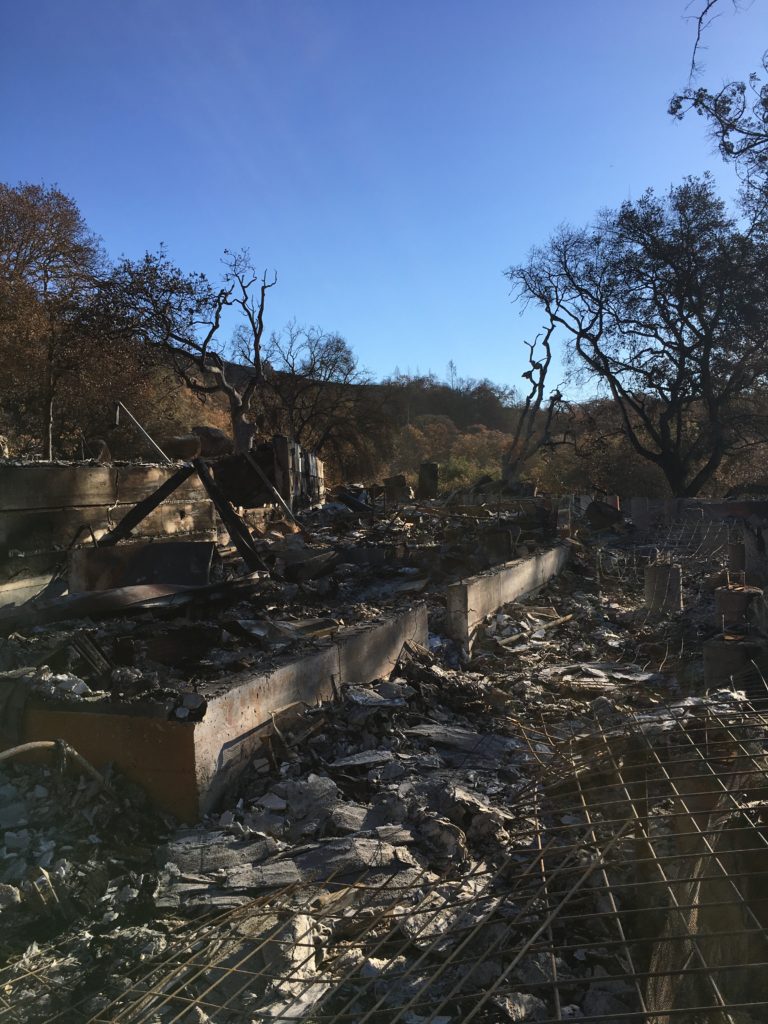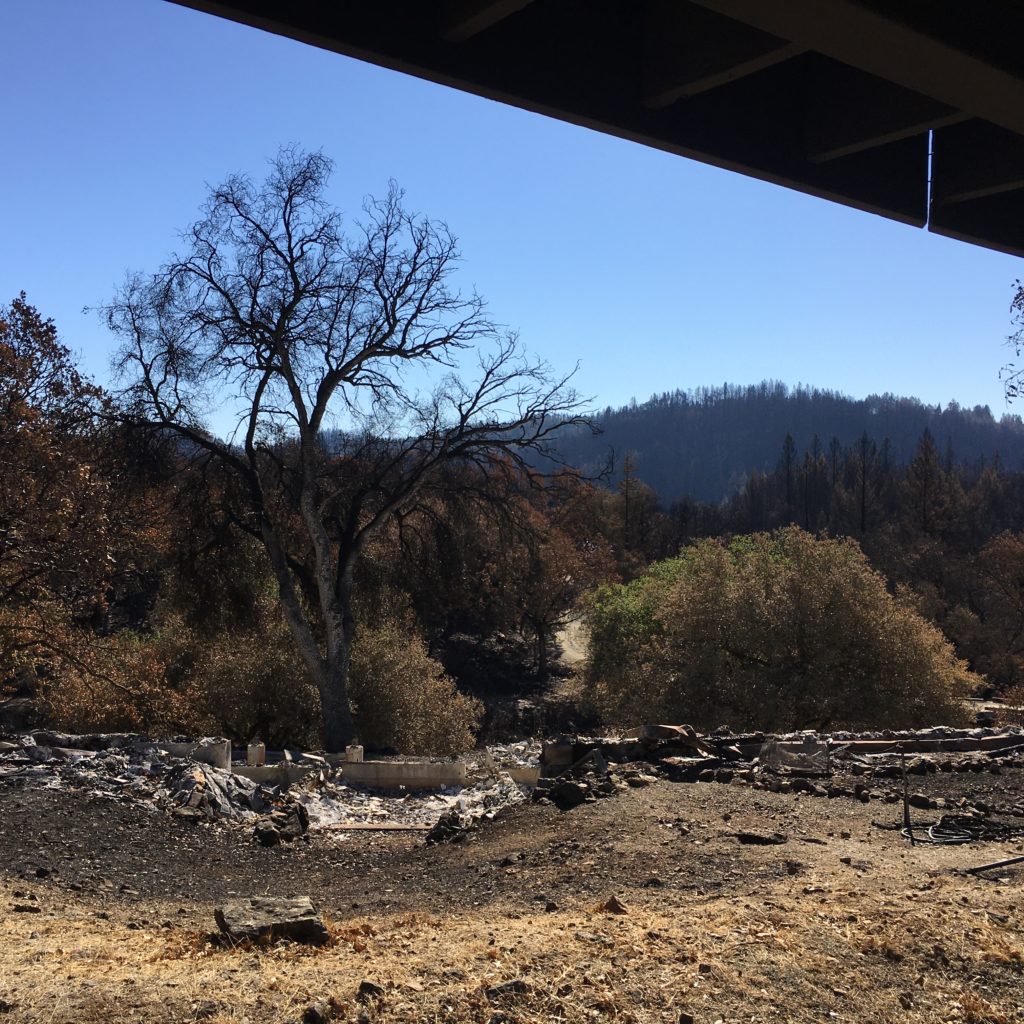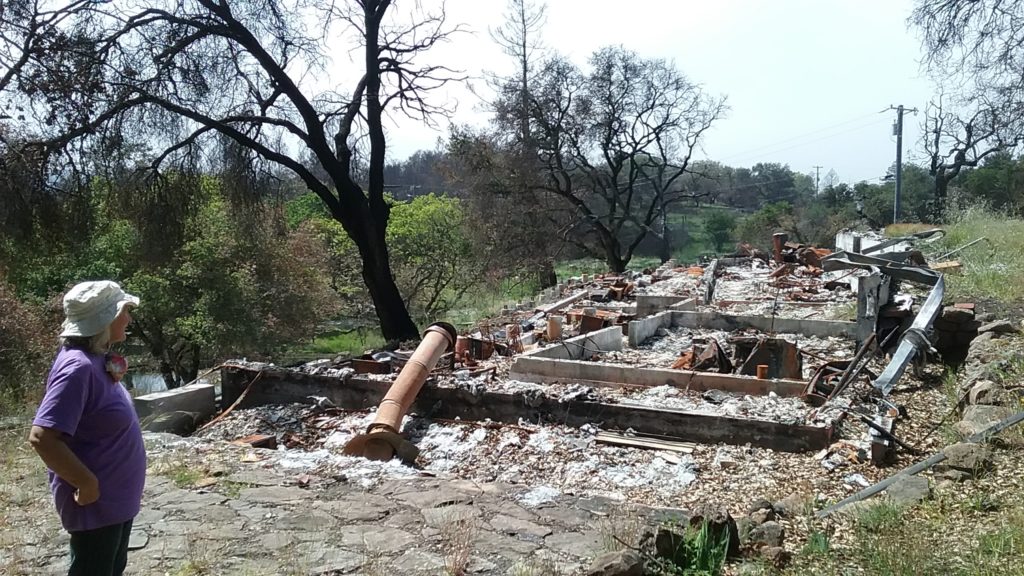 The Longhouse (West Wing, Long House, Pooh Corner). Thank you for sheltering us. Thank you for your innovation, versatility, your devotion to community, your willingness to change. Thank you for the long sinuous stretch of yourself, your holdfast nature, your attention to the raucous red-winged blackbirds, the stately grebes, and the occasional heron on the pond. Thank you for the cool air that flowed through and around you at night, from the forest to the pond, like a quiet caressThank you for your hospitality – warm muffins and sparkling holiday trees and good books and a place to run and ask when we needed something at the Hub. Goodbye.
---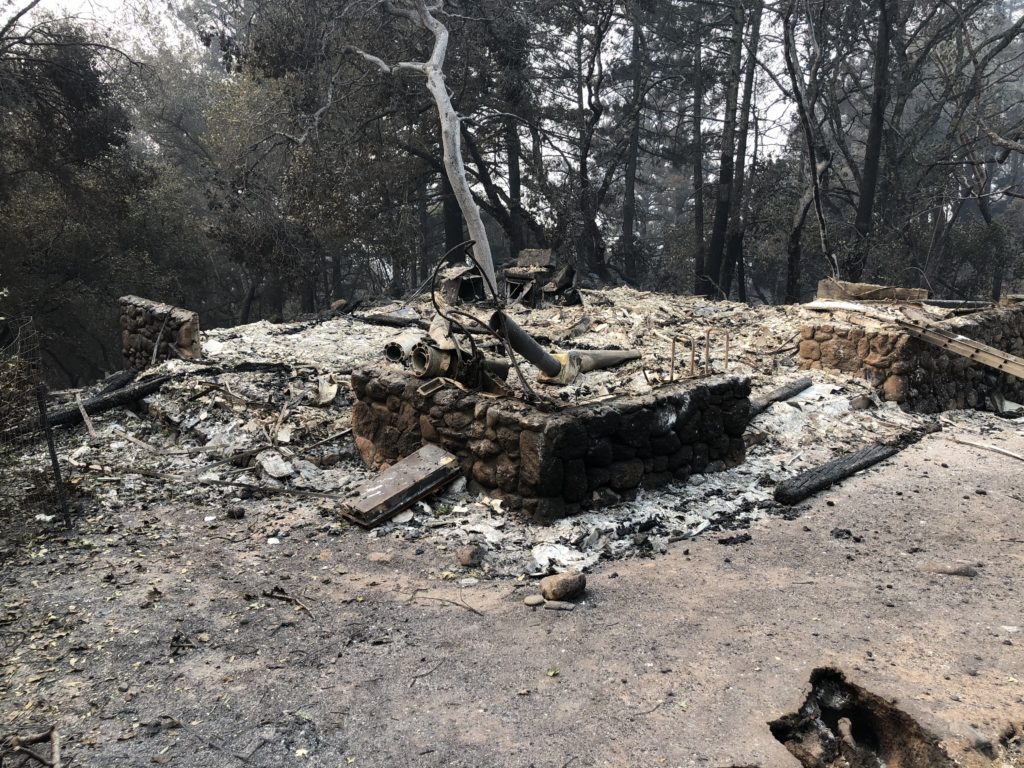 Coyote House. Thank you for sheltering us. Thank you for your solidity, up there at the top of the hill, watching the edge of the forest. For the ample carport, which stored so many people's camping gear and tools and bikes. Thank you for the brilliant blue tiles, the rock wall at your base, the roomy closets, the claw foot tub, the dreamy sleeping porch under the starlit sky. Goodbye.
---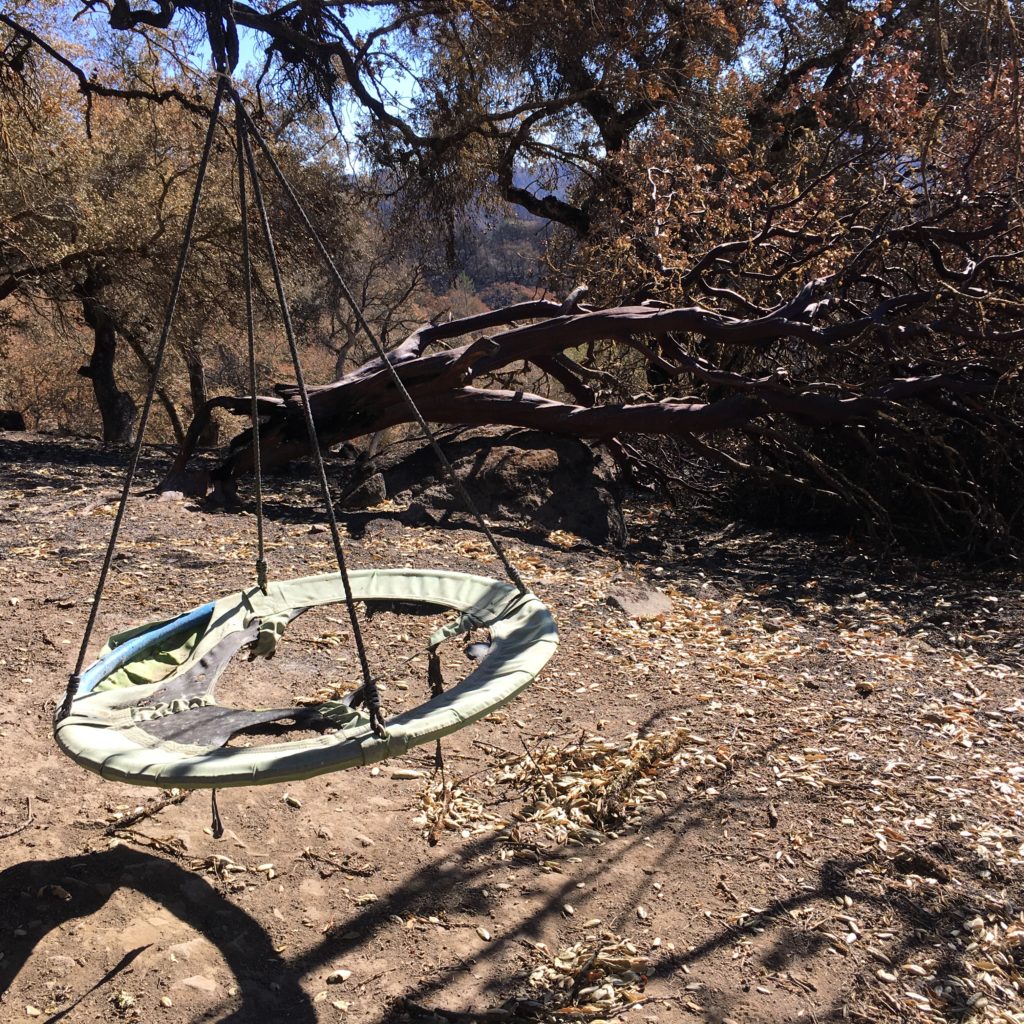 Manzanita House. Thank you for sheltering us. Thank you for being our cabin in the woods, our light-filled refuge, our original hub. Thank you for the welcoming front stoop. Thank you for the tall windows that allowed us to track the moon, and therefore our place in this world. Thank you for your roomy kitchen, and the loft that became a nest for growing children. Thank you for being so close to the road, so neighbors could wave and smile and easily stop by. Thank you for your tall ceilings echoing our laughter, tears, and merry shouts. Thank you for your expansive deck inviting us to play in the forest. Thank you for the crackling of deer hoof on live oak leaves, and for the birdsong. Goodbye.
---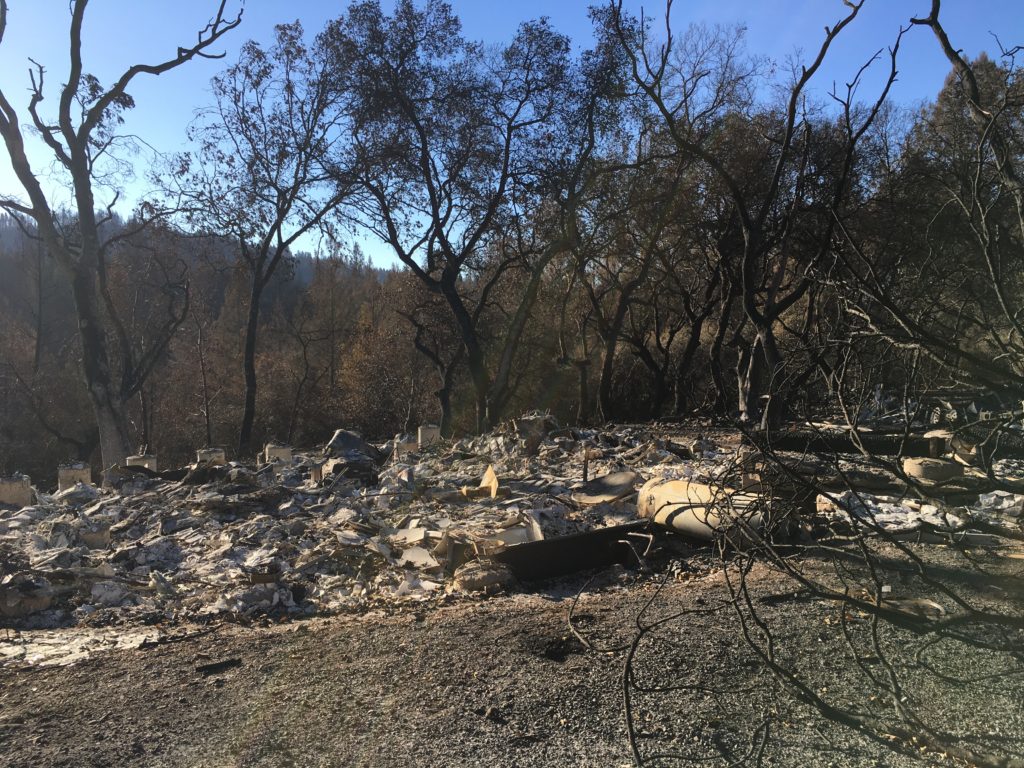 The Yurt. Thank you for sheltering us. Thank you for being our most recent, and most astonishing, house. Thank you for the craft. For your circular embrace. For the many kinds of wood you held, bringing the forest inside. Thank you for having an ideal layout for games of tag with a toddler, for the built-in bookshelves and built-in bed Thank you for your broad dome of light, for your attention to detail, and for being a joyful, companionable gateway to the garden. Goodbye.
---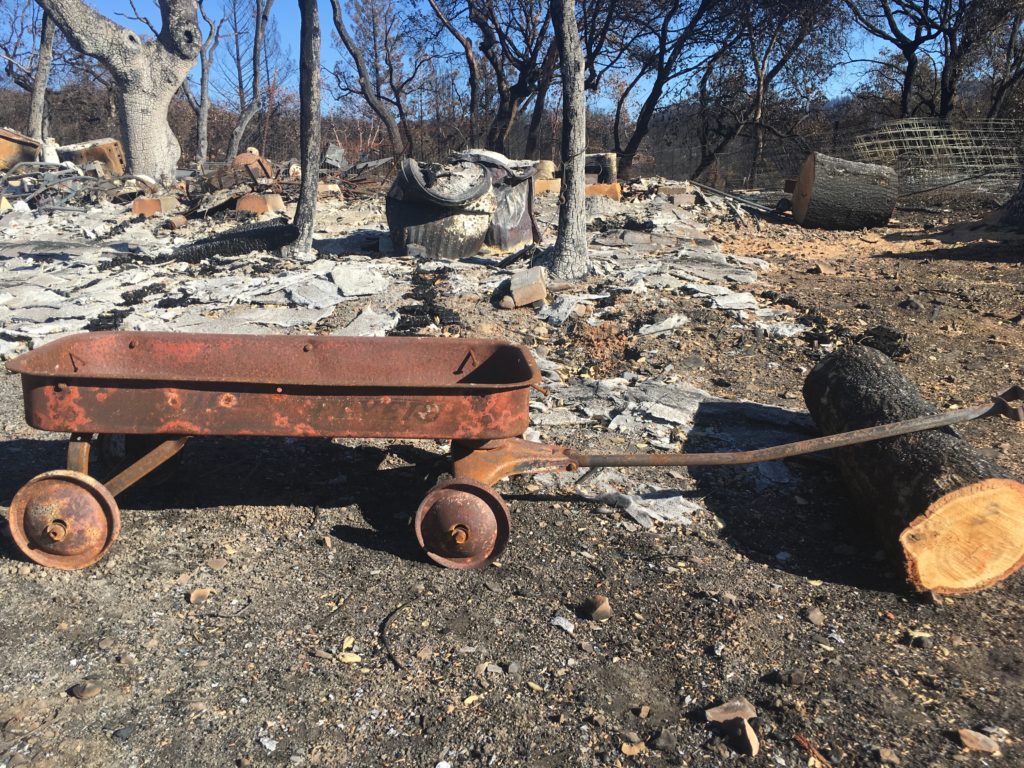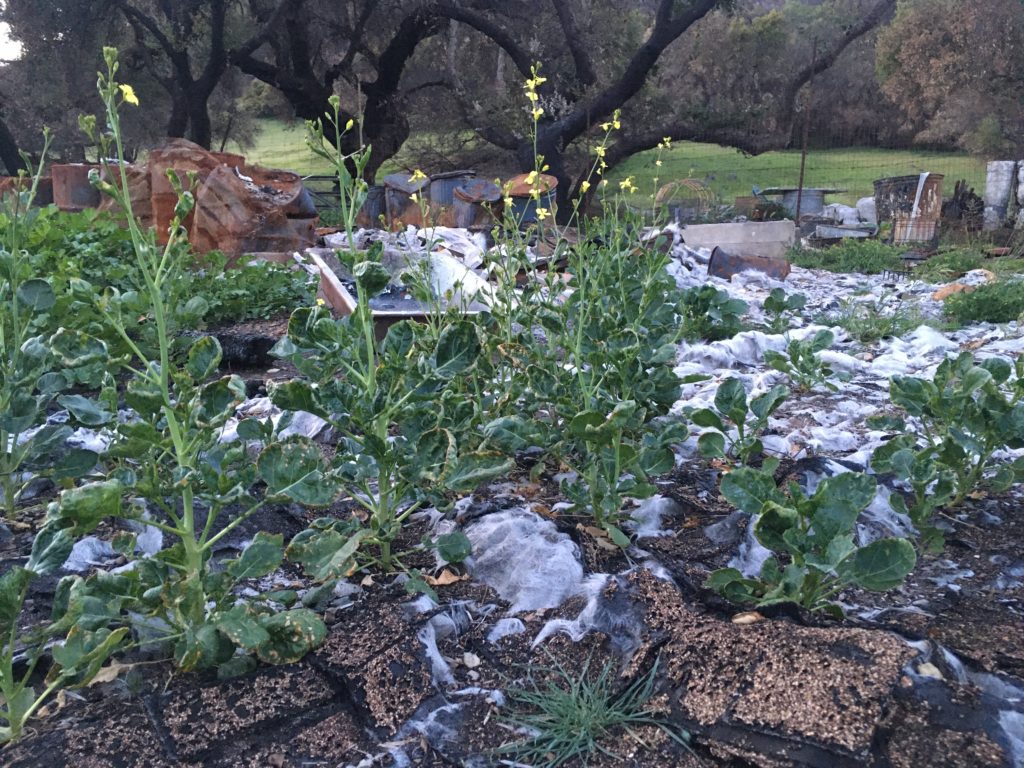 Garden sheds and greenhouse. Thank you for nurturing thousands of seedlings that became food for our community and flowers to delight our hearts. Thank you for storing the seeds and tools and equipment and infinite varieties of irrigation supplies that oscillated between chaos and order and chaos again. Thank you for anchoring garden committee meetings and Monday night barbecues and workdays and blind wine tastings and all the in-between conversations around your long wooden table with its rounded end, hosting laugher and tears and heated debates and hugs. Goodbye.
---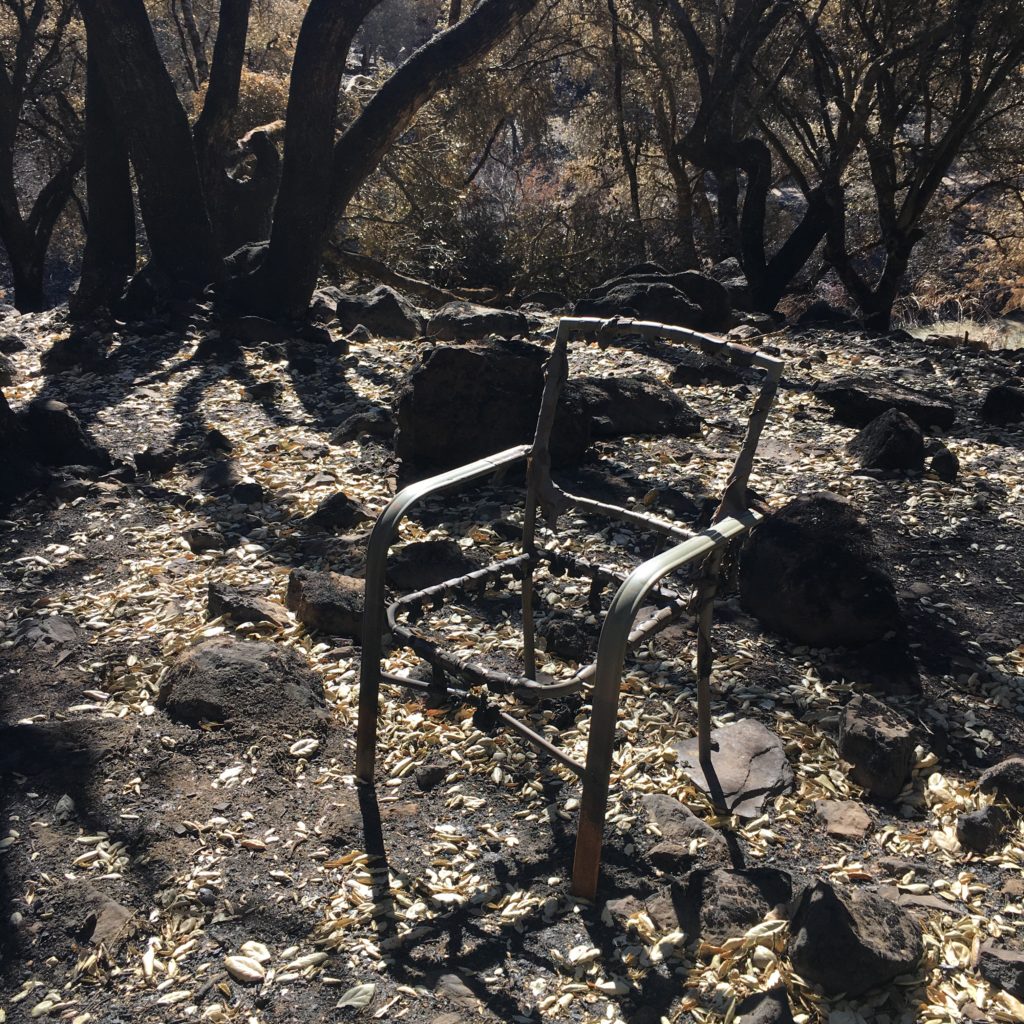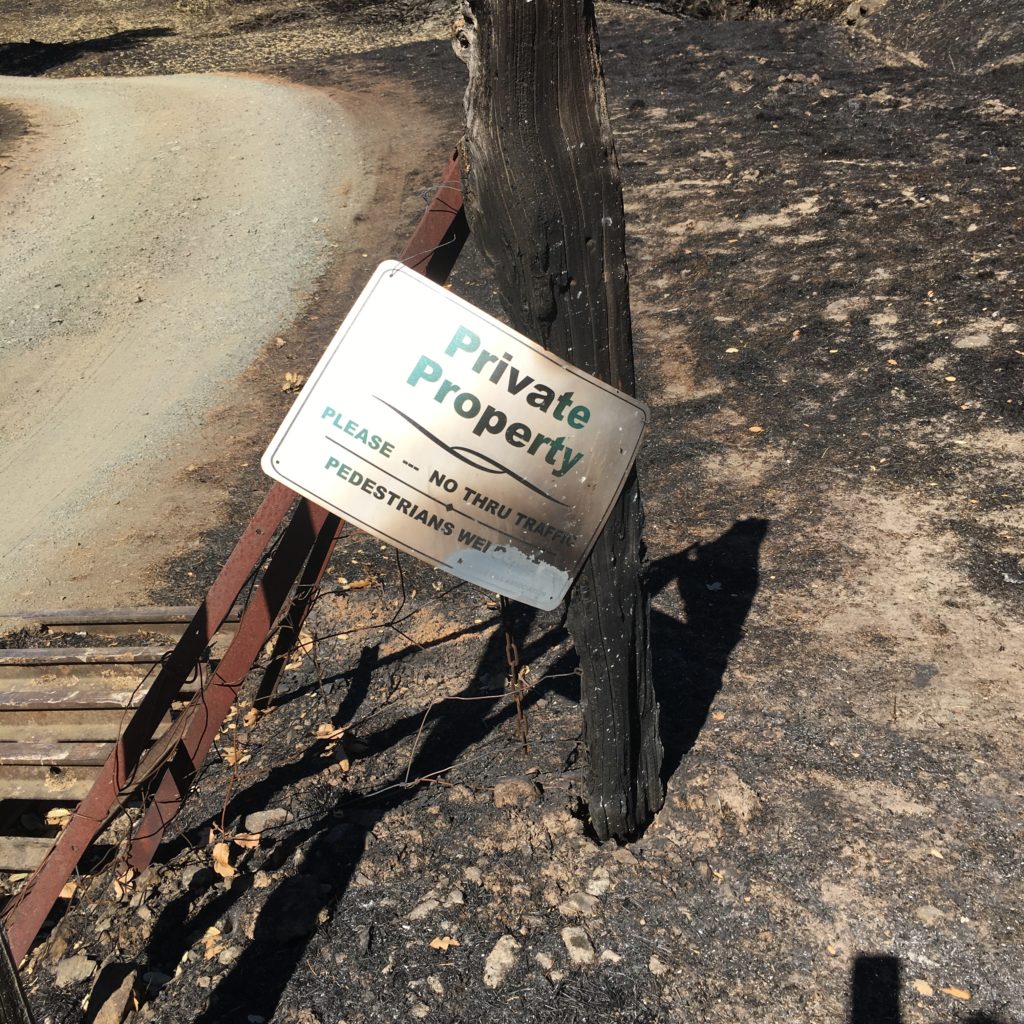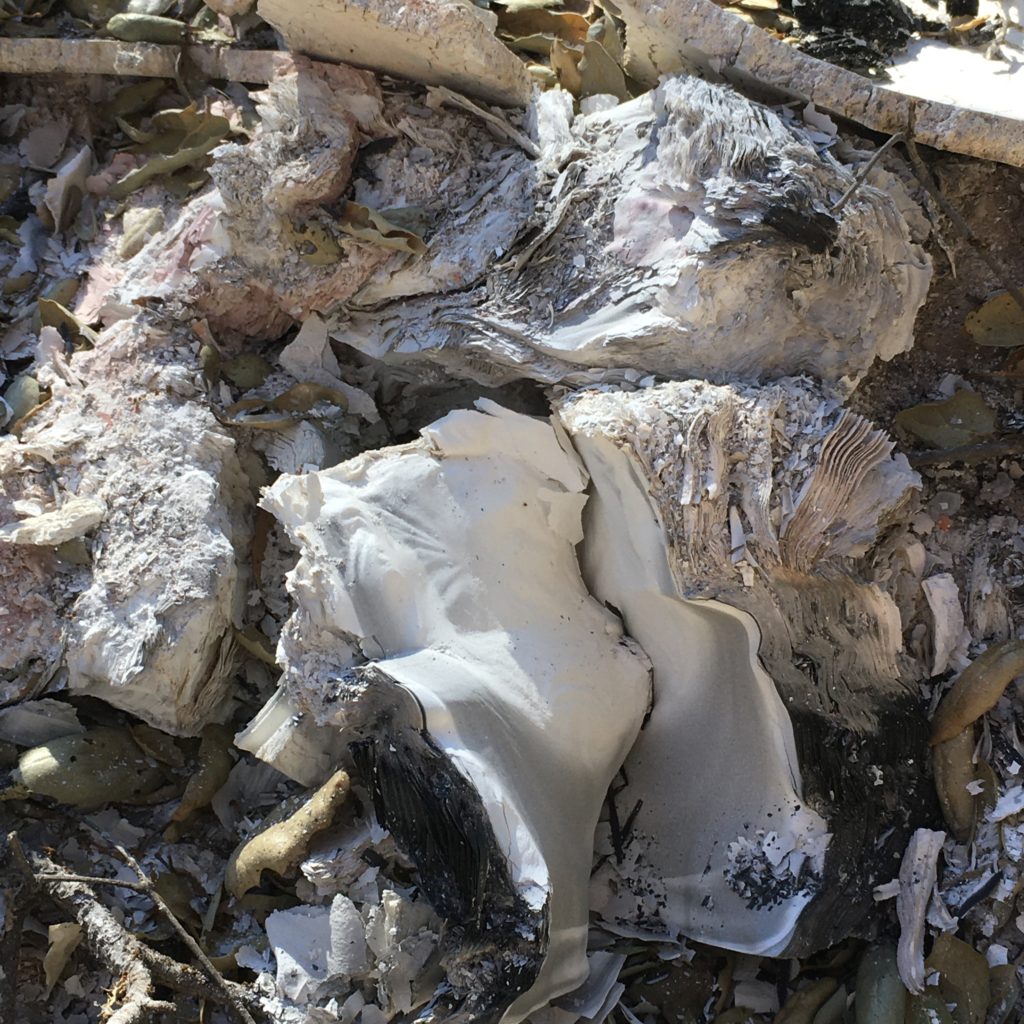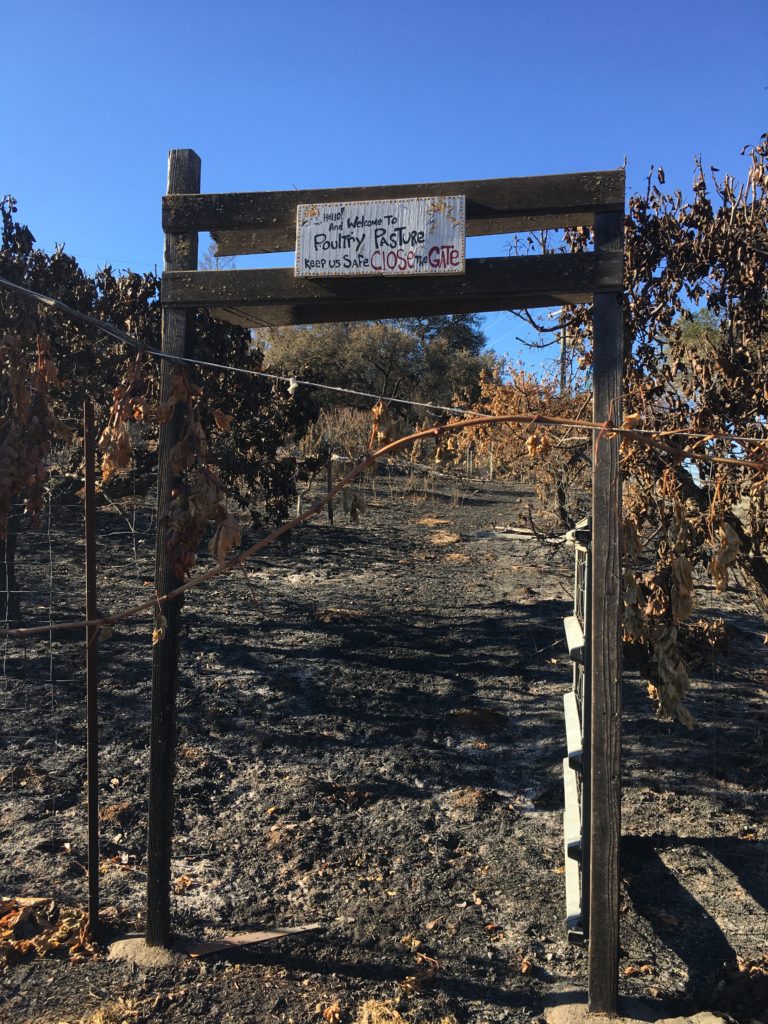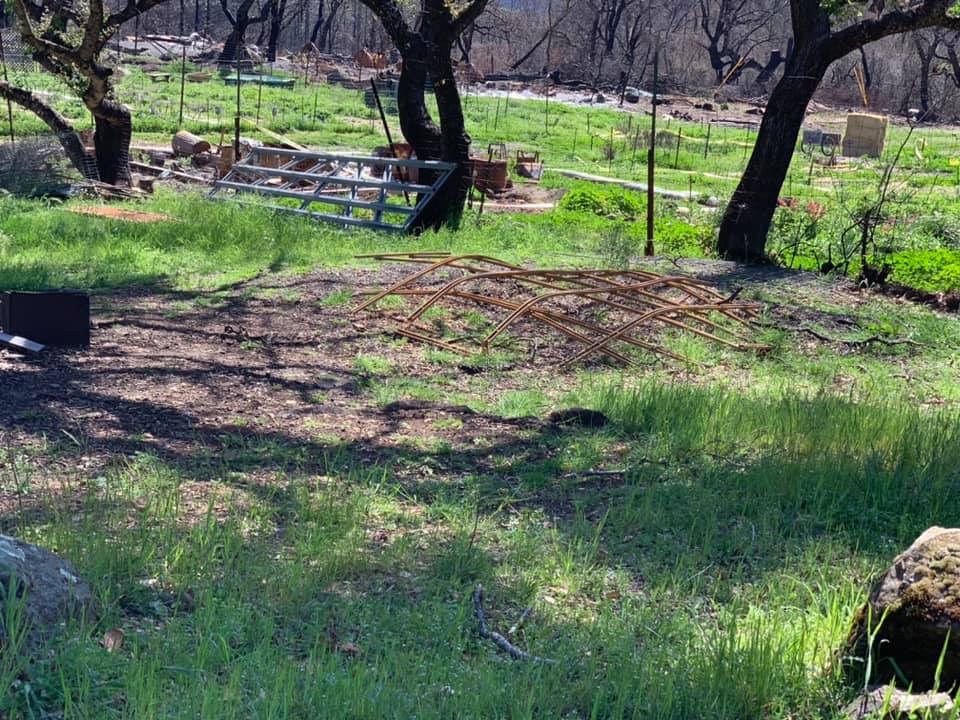 All the Other Assorted Structures of Our Lives: chairs, fences, cars, woodsheds, hot tub, well, toy shed, play structures (including the hollow tree at the bend that was an ancient, friendly playhouse), the Caboose (first a darkroom, later a writing/dreaming sanctuary), the Poultry Palace, the Round Table under the grand garden oak…. The debris cleanup contractors did not know what to do with you when they arrived. What are these odds and ends of people's lives that don't obey the rules of being tidily next to private houses? What is this place? "It's community," you whispered, and they shook their heads and we smiled. Thank you, Caboose and table and coop and sheds and playhouse with the poppies stenciled on your side and all the rest, for evolving alongside and amidst us, following your own logic (a logic held in stories), for meeting so many needs, for being our companions. Goodbye.
---
Don't tell us
how to love, don't tell us
how to grieve, or what
to grieve for, or how loss
shouldn't sit down like a gray
bundle of dust in the deepest
pockets of our energy, don't laugh at our belief
that money isn't
everything, don't tell us
how to behave in
anger, in longing, in loss, in home-
sickness, don't tell us,
dear friends.
——
Goodbye, house.
Goodbye, sweet and beautiful house,
we shouted, and it shouted back,
goodbye to you, and lifted itself
down from the town, and set off
like a packet of clouds across
the harbor's sandy ring,
the tossing bell, the untowned point—and turned
lightly, wordlessly,
into the keep of the wind
where it floats still—
where it plunges and rises still
on the black and dreamy sea.
From Mary Oliver, "On Losing a House," in Michigan Quarterly Review, August 2017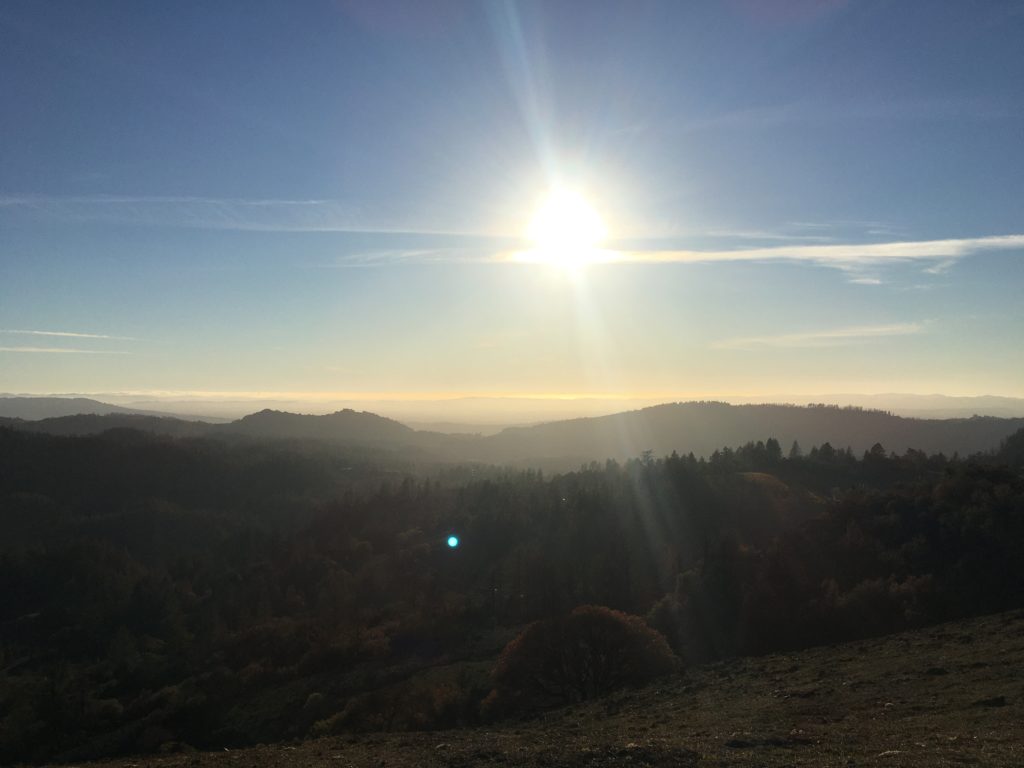 Coyote House is Opening!
Coyote House is Opening!
My great uncle always used to say "There have to be endings to be beginnings," and it is of course true at the Rill, as well. Two of our beloved long-term members have departed, to start a new chapter in their lives. This means that one of our homes is opening as a rental.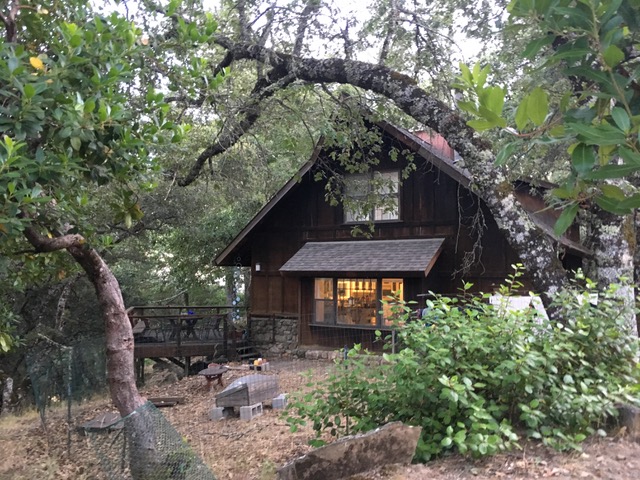 At Monan's Rill, we prioritize renting to people who are interested in long-term living and membership here, and we encourage renters to formally explore this possibility early in their time living here. We usually offer a 12-month lease for renters. However, due to the current conditions of COVID-19 and the lightning complex fires, we are right now also open to considering a shorter-term lease for those who may be in need of temporary housing. (So please do share this information – and our rental interest form – with any friends who may have lost a home.)
About MRA:
Monan's Rill Association (MRA) is a collectively-owned intentional community on 414 acres in the Mayacamas Mountains. Our beautiful rural land is conveniently located within 20-25 minutes' drive to Santa Rosa, Calistoga, and St. Helena. We are about 1.5 hours drive from San Francisco and the East Bay. Founded in the 1970s, MRA is centered on the core values of Honoring Every Voice, Relationships and Caring for Each Other, Stewardship, and Stability. For more about MRA, be sure to browse this site, see the recent article about us in Made Local Magazine, and check out our Instagram account!

Living at Monan's Rill brings many benefits, including clean air and water, quiet starry nights, beautiful nature trails, and relationships with other community members across an intergenerational spectrum, from children to elders. Living here also comes with responsibilities to care for your home and for the community as a whole, working side by side with members. MRA works best for people who are actively interested in living in the country, knowing their neighbors, learning and sharing skills, and making a difference together.
About Coyote House:

One of our 13 homes, Coyote House, is available for rent beginning in October. Coyote House is a 1,373 sq. ft. two-story home with 2 bedrooms, 2 bathrooms, a deck, a screened-in sleeping porch, and a 2-vehicle carport with built-in storage. It is located at the base of several of our hiking and mountain biking trails.
Coyote House rent is $2200 per month, and includes water, sewer, trash and internet. Electricity, propane and telephone are not included. $2000 security deposit plus $500 deposit for each pet (if approved by MRA), as well as a $500 cleaning fee. Each adult renter is asked to contribute 10 hours of work per month toward caring for their home and the community, with guidance from MRA members.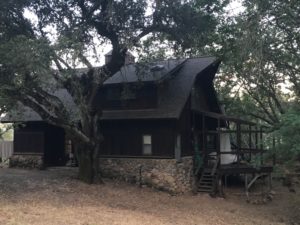 If you're interested in exploring living at Monan's Rill, please fill out our rental interest form. We will follow up to set up an initial Zoom call with a couple of our members, followed by a COVID-safe in-person visit if it seems like a mutual good fit.
We look forward to meeting you!