Acorn Planting Day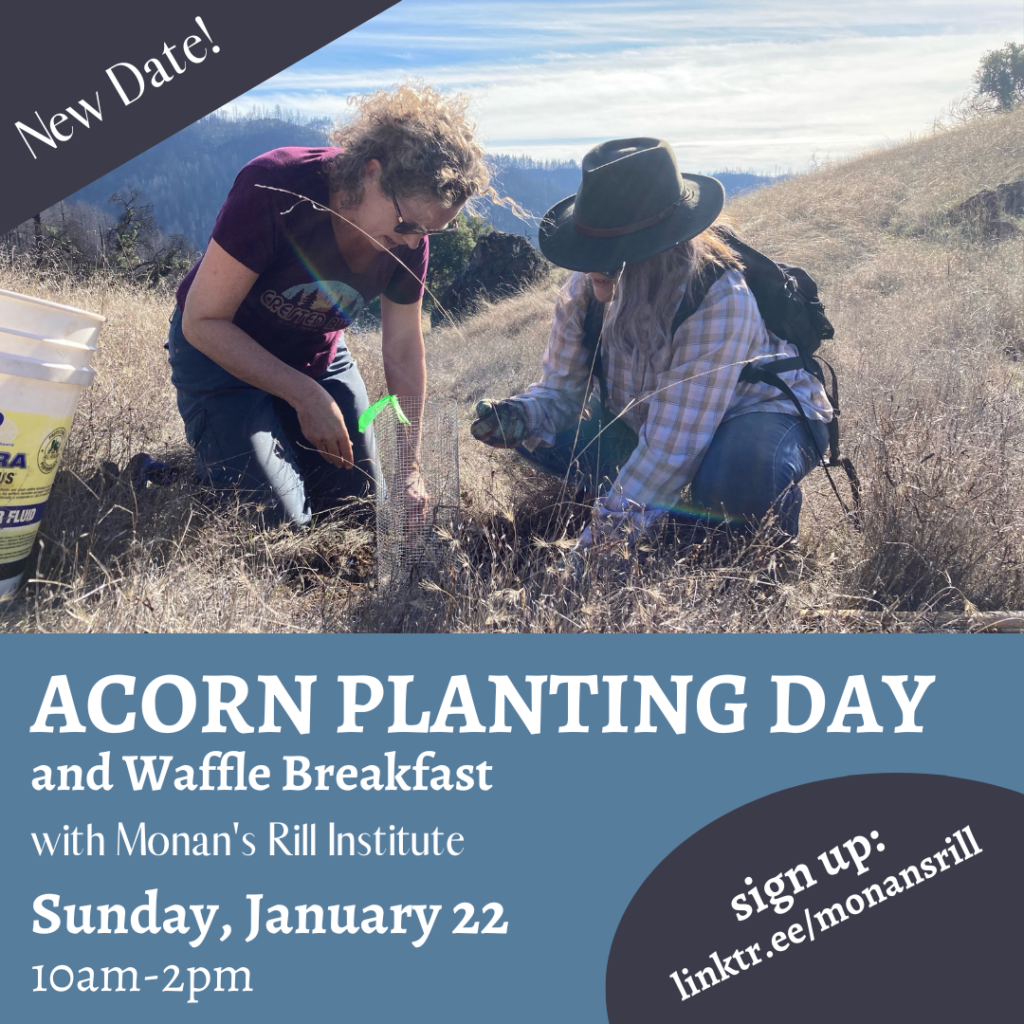 On Sunday, January 22 from 10am-2pm, please join Monan's Rill Institute for an Acorn Planting Day to support the regeneration of oak woodlands following their severe burning in the 2020 Glass Fire. 

We will start with a waffle breakfast at our community building (the HUB) from 10:00-10:30am, and then head out from 11:00am-1:30pm to plant acorns in historical oak savanna and oak woodlands where mature oaks were killed by the wildfire. Thanks to volunteers and friends, we have several hundred locally collected native oak acorns ready to plant!
We will work together to identify planting sites, clear grass and weeds around them, dig holes and loosen the soil, plant acorns in the ground, inoculate with soil from below healthy mature oak trees, and install cages to protect sprouting acorns from our animal friends. 
At 1:30pm we will return to the HUB to share our successes and learnings, wrapping up our closing circle at 2pm. You are welcome to stay after to eat lunch together with other participants.
We hope you will join us for this opportunity to connect with nature and fellow humans, while contributing to the regeneration of native oak woodlands.
Please bring a filled water bottle, any snacks or lunch you'll need to sustain you until 2pm (waffle breakfast will be provided at 10am), work gloves, and a mask. We also recommend wearing good hiking shoes, long pants, sun and/or rain protection, and layers for variable weather.
There will be a Monan's Rill community business meeting from 3-5pm, the first portion of which guests are welcome to attend.

All ages are welcome at this event. Sign up now to secure your spot!
Registration will close at 6pm on January 21, or earlier if all spaces are full.