Savoring Spring In So Many Ways
Spring at the Rill has been lively! We've been able to watch the lush recovery of our land in real time. Birdlife, fungi, lizards and snakes, jackrabbits, new fawns, oak shoots, stump-sprouting toyon and madrone, honeybees (finally), and the flowers. The flowers! If you have been following us on Instagram you have seen some of the flowers. We were told they would come and we were not let down.
In charcoal-rich places where we reseeded, we have also welcomed a lush carpet of native grass, with small dabs of lupine and poppy. We will seed more before the rains next fall, after our salvage logging is done. We are removing burned firs on the southern slope of our ridge, in order to restore an oak savannah ecosystem. (Many thanks to Pepperwood Preserve for treading this tender ground before us – it hurts to see any tress come down, even when we know there is a larger reason.)
We have also been growing ourselves as human beings through this time. We held a small Easter gathering, to celebrate community. We are working with Kate Sassoon, a community facilitator rich in experiences with different kinds of cooperative groups, to reground in consensus decision-making for the long rebuilding road ahead. And we also have started planning and visioning our rebuild with the help of the amazing Robin Stephani of 8th Wave, a local architecture firm devoted to climate- and fire-resilient, affordable Sonoma County housing.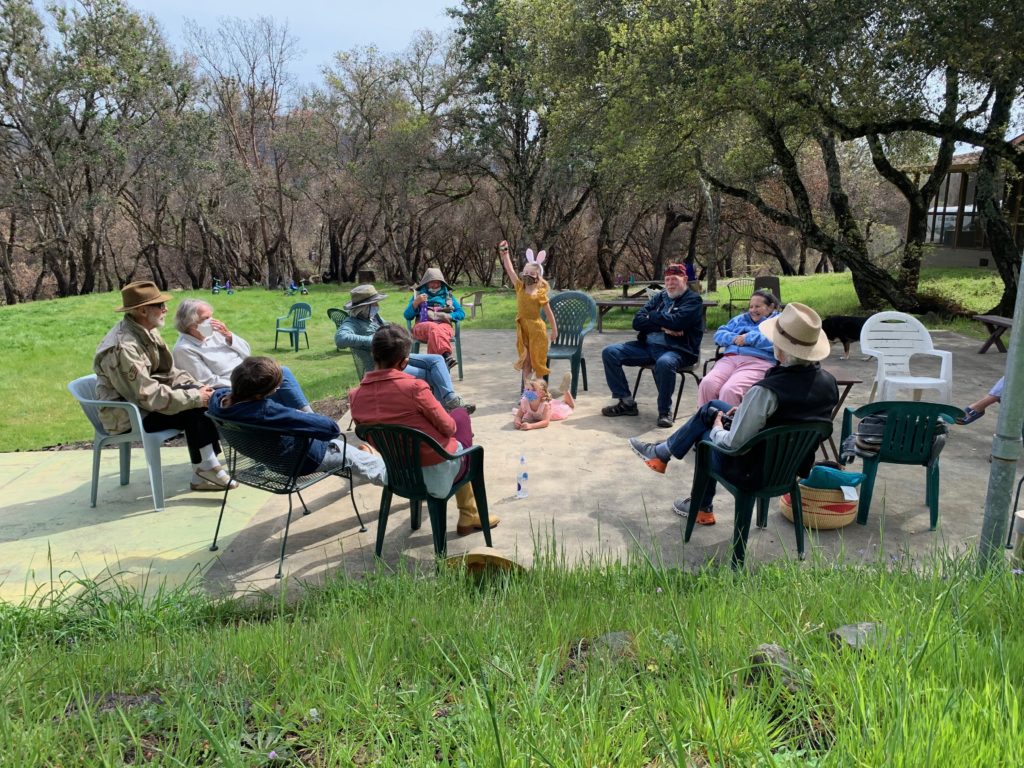 This coming Saturday, May 1st, we are celebrating spring in the way we know best – by connecting with the land and each other. We are hosting a Bioblitz, a citizen science project that brings teams of people together to gather information about local biodiversity. You can read about it in this lovely Press-Democrat article:

https://www.pressdemocrat.com/article/lifestyle/watch-for-wildlife-at-burned-down-monans-rill-this-saturday/
And if there is space left, you can sign up though our link tree here: https://linktr.ee/monansrill
While all this life is blossoming, we don't want to sugarcoat the process. There's a lot of hard physical and emotional work going on. Just today, the excavators arrived to start the debris cleanup on all of our burnt homes, well, garden shed, barn, community toy shed, and more. It still hurts. We are so grateful for all the ongoing support, through our GoFundMe, through our community workdays, and through sheer emotional connection. Thank you so much.