Community Workdays are Vibrant and Important, Still
Community Workdays are Vibrant and Important, Still
Through the wildfire last fall, many of the nutrients in vegetation, trees, and dead leaves and branches were released into the soil, leading to unprecedented growth of plants like wild radish, thistles, malva, and many kinds of grasses this spring. 
Where do all those lush weeds go? We layer them with food scraps, manure and bedding from the goat stalls and chicken coop, and azolla harvested from the surface of our pond, to make a compost pile, then add the biodynamic compost preparations (also lovingly donated by friends to replace those burned in the fire) and wait for the magical alchemy of composting to transform it all into powerful fertility for the garden soil and the crops it will grow.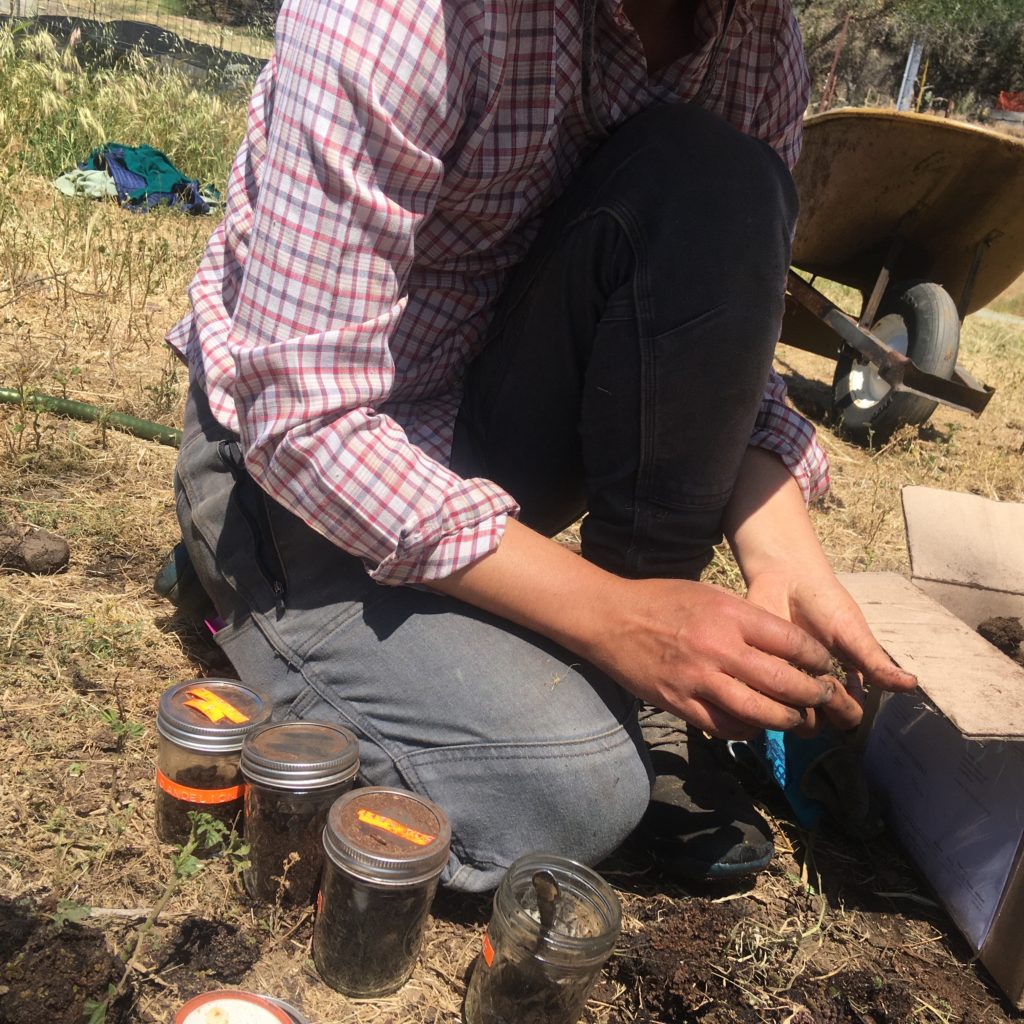 During recent community workdays many helping hands have cleared these weeds from garden beds to make space for spring vegetable starts, lovingly donated by several of our farmer and gardener friends since we have not yet been able to rebuild our greenhouse.
Sadly, we have to report that an unexpected day of cold winds brought frost to our garden last night. This morning Thea wrote on Instagram: "After weeks of heat, last night brought strong winds and frost which damaged a large portion of the crops in the garden, beautiful peppers and cucumbers and basil and tomatoes and squash and flowers all of which were grown by friends and given to us to revitalize this garden that is the heart of our community after the fire. Most of the seedlings sat in their pots longer than I would have liked waiting for bed preparation and irrigation to catch up with them, but after a super productive workday a couple weeks ago we finally got everything into the ground, watered, and mulched. We were all astounded by how much food and flowers would be forthcoming. Bringing this garden back to life has been a big project for me since I left my full time job and moved back to the land, something tangible I could contribute to renewal after destruction, and so even though I'm used to the ups and downs of farming it is particularly painful to see so much of this new life killed today. Seems like more row covers and low tunnels will be in our future if we want to keep growing food in this increasingly unpredictable climate."
Our GoFundMe is still open – if you can contribute to our ongoing garden recovery – including new starts and a start on our greenhouse, too – we will deeply appreciate the help. Thank you!
Join Us for Community Workdays:
Star Thistle and the Weed Whip Challenge
Although fire can disrupt the life cycle of some invasive species, it can create more space for others to come in, such as the Harding grass and spurge we have shared about in earlier newsletters. Now that we are into May, another invasive has arrived on the scene: Star Thistle. We are lucky to only have it on the western edge of Monan's Rill land, but it is already flowering so the time to clear it is now. Join us for upcoming workdays to see this rarely-visited corner of the land with some beautiful westward views and keep the Star Thistle in check by pulling it before it goes to seed.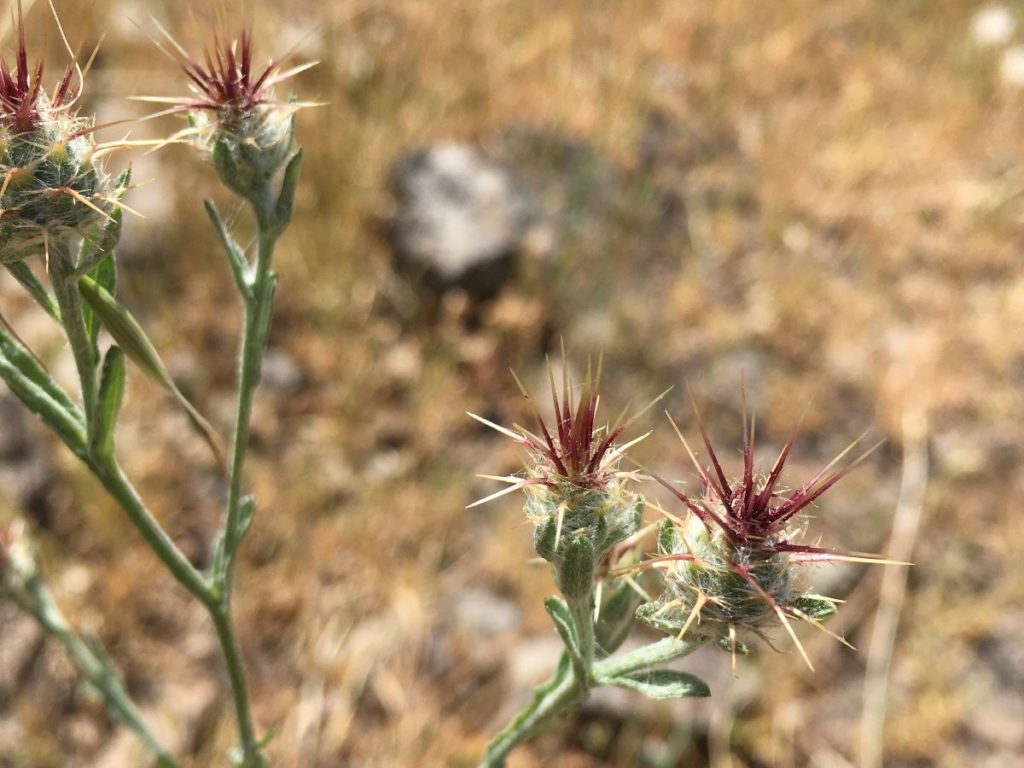 Many people have the misconception that once land burns in a wildfire, it is immune from burning again. As a sobering article in the Press Democrat this week emphasized, that is far from the truth — in fact, without careful post-fire stewardship, fire-scarred landscapes can be ripe to burn again quite soon after the initial blaze.
Here at Monan's Rill, we see the greatest risk this year from the potential of a grass fire, as the wild oats and other grasses are taller than we have ever seen them, and are already becoming golden and brittle from the hot and dry spring we are experiencing.
Do you have a weed whip/weed whacker/string trimmer? If so, please join our weed whip challenge and help us clear around our remaining buildings, travel trailers and roads to make sure Monan's Rill is safe this fire season. You can sign up for one of our upcoming workdays, or contact us to arrange another time to come and help out.
Our next volunteer workdays will be Saturdays, May 22 and June 12 and we invite you to sign up to help with one of several projects including pulling star thistle, weed whipping grass and tall weeds for fire safety, tending to the garden, and more projects to be determined.
Feel free to pass along the invitation to friends — we welcome new folks to join us! Children are welcome as well. We have at least one kid-friendly project every workday.
Advance sign up at least 24 hours in advance is required for all volunteers. Volunteer spots are limited and COVID precautions are in place to keep everyone safe and healthy. 
And if you can't make it this month or next, please do sign up for our newsletter so you can keep up to date with how we are moving forward!

Our deep gratitude goes out to everyone who has been supporting us through this challenging time of devastation and renewal through your financial gifts, your participation in workdays, and your companionship, whether near or far. This greater web of support helps us continue to build toward a healthy and resilient future together!