It's Hot Out! Time to Jump in the Pond!
It's Hot Out! Time to Jump in the Pond!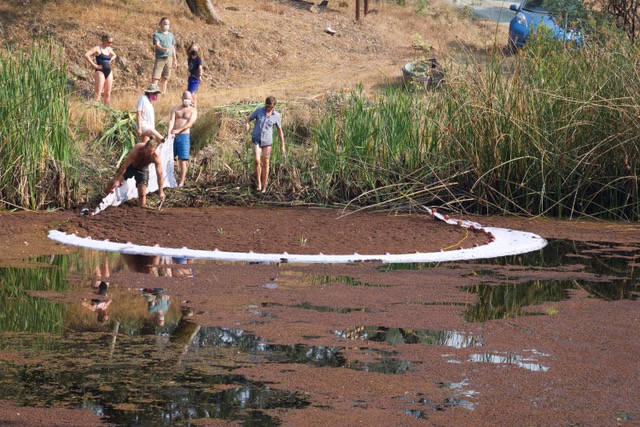 A few years ago, a little water fern called Azolla filiculoides showed up on the surface of the upper pond at Monan's Rill. At first just a small patch of green, it quickly grew to cover the whole surface of the pond. The lower pond stayed clear that year, but the following year the azolla made its way over the spillway and down the creek to colonize the lower pond.
To some, this little plant is an annoyance to be rid of. But there are many benefits to azolla as well. It converts nitrogen from the air into a form usable by plants, and in fact is as rich in nitrogen as cow manure. Like all green plants, it also takes carbon out of the atmosphere through its process of photosynthesis. And, as it sits on the surface of the pond it helps prevent evaporation.
If it is allowed to build up for too long, azolla can cause problems as it piles up on itself, then sinks to the bottom, and sucks all the oxygen out of the water of the pond as it decomposes, leading to anaerobic conditions. But if it is regularly harvested and tended, it makes an excellent mulch and compost ingredient, providing nutrients and moisture balance to the soil and plants.
Last year we harvested the full surface of the upper pond (pictured above), but we didn't make much headway on the lower pond, so the mat of azolla became quite thick. For the past couple months, e has been diligently harvesting loads of azolla from the lower pond nearly every afternoon, throwing a net into the pond, pulling it back to the edge, and scooping piles of azolla on to the shore. e has also brought in some impressive harding grass plants that have taken root on that thick mat of azolla.
Help harvest azolla this Saturday afternoon
This weekend, we have shifted the timing of our community workday to the afternoon. Join us on Saturday, June 5 from 1-4pm to help with azolla harvest and other community fire recovery and resilience projects.

Bring your swim suit (or clothes you don't mind getting wet) if you want to get the full in-pond harvesting experience. There are also plenty of ways to help with azolla harvest and other projects without jumping in!
You can sign up for our workday here.
Feel free to pass along the invitation to friends — we welcome new folks to join us! Children are welcome as well. We have at least one kid-friendly project every workday.
Advance sign up at least 24 hours in advance is required for all volunteers. Volunteer spots are limited and COVID precautions are in place to keep everyone safe and healthy. 
Thanks and we hope to see you here!